What is the Mission Focus of the Month?
YOU are exactly who God has created you to be, and God has designed you to fulfill a mission that only you can! Our hope is that as we learn about different ministries in our community and throughout the world, something will speak to you. Our dream is for you to experience the JOY of living into your purpose. Keep scrolling to experience our Mission Focus of the Month in a more in-depth way.
Forever Fed is a food ministry that operates on the Hillside UMC campus. They currently hold pantries on Tuesday evenings at Hillside and on Saturday morning at various locations. There are many opportunities to serve. Let us help you find something according to your talents and schedule!
Help us give the guests at Forever Fed soup (cans or pouches). Who doesn't love a hot bowl of soup on these chilly days?!? Collection bins in Celebration Hall lobby and outside of the sanctuary.
There are opportunities to serve Monday-Friday in a variety of ways. Forever Fed needs YOU! Learn more about volunteering and sign up
here
.
Commit to serve on a monthly or weekly basis.
Learn more about the Forever Fed ministry and how it blesses the local community
here
.
Looking Back: Christmas Angels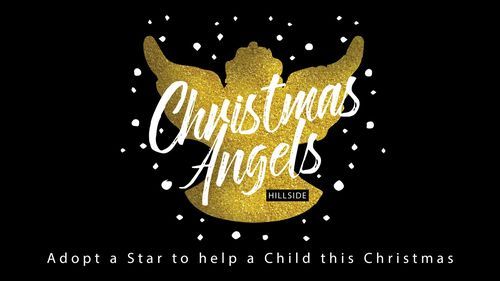 The Christmas Angels program served 349 children this year by providing Christmas gifts. Children are identified by Cherokee County DFACS and the school guidance counselors at Boston Elementary, Oak Grove Elementary, Clark Creek Elementary, Sixes Elementary, Liberty Elementary, ET Booth, and Etowah High School. Lots of folks came out to help with delivery as well.

Thank you Hillside!

We were also able to contribute $ to the Goshen Valley Foundation and $ to Murphy-Harpst Children's Center.
Looking Back: MUST Ministries
MUST addresses the basic needs of individuals, families and children with facilities in the Cobb and Cherokee counties and programs in numerous other counties with a mission to serve our neighbors in need … transforming lives and communities in response to Christ's call.
Sign up to participate in or volunteer for the annual Gobble Jog on Thanksgiving Day here. If you are participating, make sure to register as a Hillside team member (Hillside UMC - Dressin and Drumsticks)!
Join a team to install blinds at the new Build Hope a Home shelter. Contact Craig K. for more information.
MUST Toy Shop for parents to shop for Christmas presents. Summer Lunch in 2022 - Hillside UMC is a host site!
Contribute to or volunteer at a MUST neighborhood pantry, serving our Cherokee County students. Learn more and sign up to serve here.
Volunteer with Hillside's Breaking Bread - Sign up here.
Commit to a weekly or monthly volunteer position in food, clothing, workforce development, outreach/housing, or administrative areas at the Canton or Marietta locations.
This year, Hillside has:
Donated products to independent pantries at Woodstock and Etowah High School.
Fulfilled the $10,000 commitment to
Build Hope a Home
, MUST's new emergency shelter, set to open in 2022.
Provided program support through Missions and Outreach and Men's Ministry.
Delivered over 9,000 meals through Summer Lunch.
Served dinner at the Elizabeth Inn 2-4 times per month.
Looking Back: Foreign Missions
Hillside typically offers two international trips each year to Orphanage Emmanuel in Guaimaca, Honduras and to San Lorenzo, Honduras through HOI. We are currently unable to make these trips; however, God is still working in these places, and (here's the cool part),
you are still a part of it!Find out more about Orphanage Emmanuel.
Find out more about Honduras Outreach International.
There are pictures of the children who live at Orphanage Emmanuel around the church. We challenge you to take the photo of a child and intentionally pray for that child by name. Pray for them daily and be open to what God has in store for you as you do.
In the month of September, Hillside has:
Committed to intentionally pray for 125+ children by name.
Distributed funding to frontline workers in the church of Afghanistan.
Distributed funding through UMCOR to support relief efforts in Haiti.
Have questions about Missions & Outreach?
Let us know here.